Tractor enthusiasts everywhere have been thrilled with the improved and new additions to the KIOTI Tractor lineup this year. In addition to the recent release of the new CX Series KIOTI tractors, KIOTI has updated a few of the most well-loved and trusted tractor models like the CS. There are now 4 new tire options for each newly released tractor! If you're curious about the new lineup of KIOTI's at our Vernon tractor dealership, keep reading!
The New KIOTI CS2220 Series Compact Tractor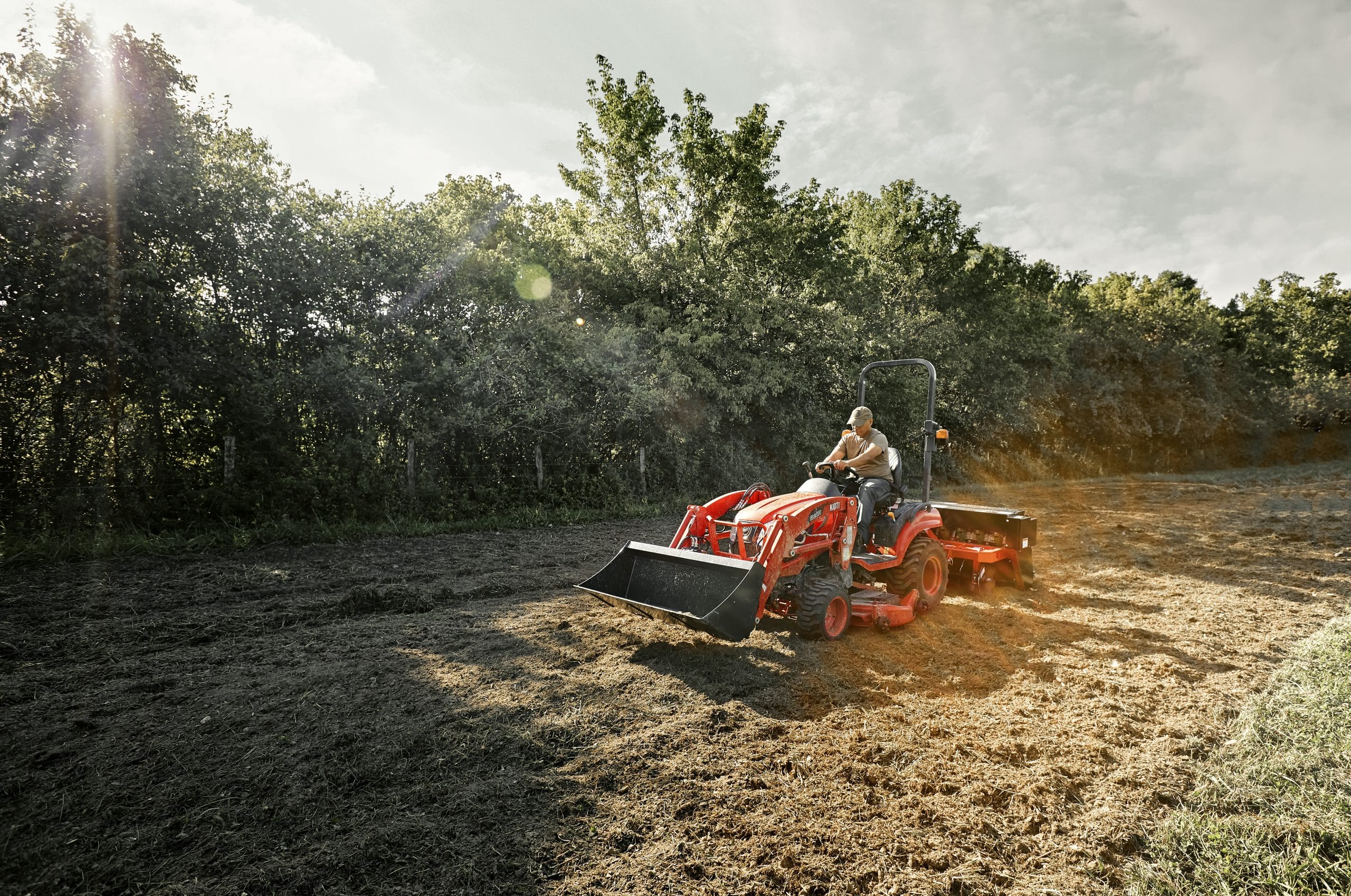 The KIOTI CS2220 and CS2520 compact tractors are completely new and power-packed with new features making getting the dirty work done more efficient and fun than ever.
The CS Series tractors have been a popular and well-trusted utility tractor in Canada for many years already, but the new, improved models have some practical features and added operator comforts we love. The CS now boasts a quick attach feature for your front implements, making it simple to attach and unattached implements.
The new version also has dual bucket tilt cylinders which are more durable and easier to operate. The dual bucket lift means it's easier to work on grading and heavy-duty tasks in a smaller tractor.
The new CS tractors also have a heavier duty chassis and a bigger, more powerful engine. They also boast more comfort features like the tilt steering and built-in loader valves. The integrated hydraulic controls are ergonomically positioned right where the driver's hand sits, making operating the loader easier and more comfortable. It also has cruise control, a toolbox and a USB charging port for your devices.
There is also a seven-pin connector and extendable three-point hitch links. The telescopic links make fine adjustments incredibly easy when attaching your 3-point implements. These tractors are easy to operate and a beautiful balance of compact and powerful, making it perfect for a wide variety of tasks.
The Brand New KIOTI CX Series Compact Tractor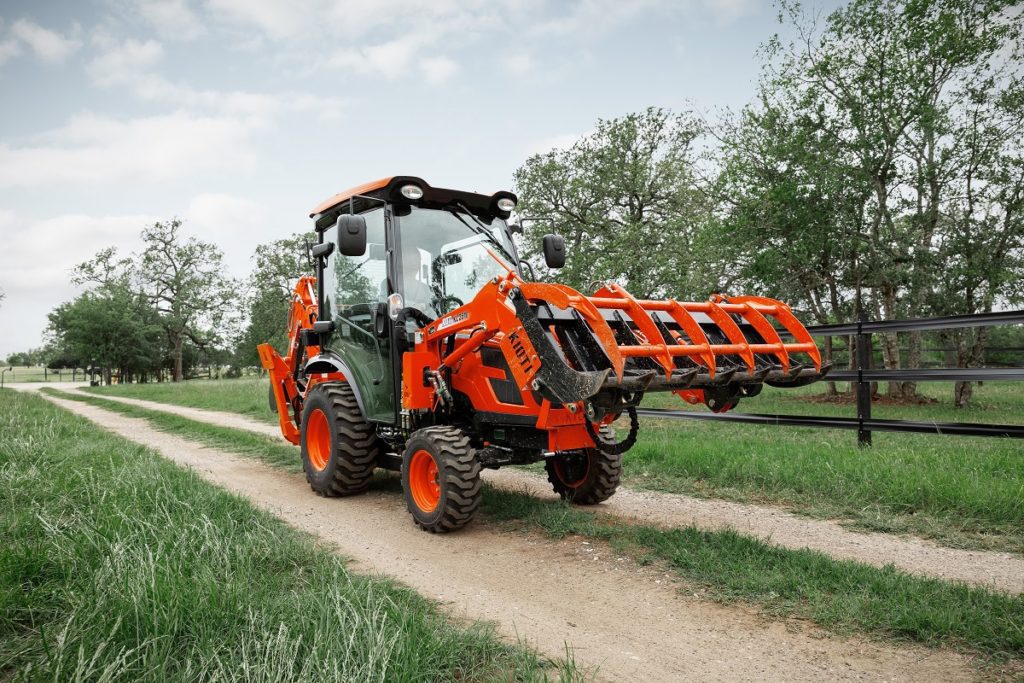 We got our first shipment of KIOTI's CX Series compact tractors and sold out before even getting a chance to assemble them all! And with good reason. The new tractor by KIOTI is small enough to fit into tight spaces but robust enough to do the dirty work.
The new CX2510 was created as a replacement for the now-discontinued CK2510. The new CX has many of the same features as the previous CK2510 with some additions that make it more powerful and ergonomic than ever.
The new CX tractor has dual pedal transmission controls as opposed to the dual rocker pedal found on the older CK models. The dual pedals making repetitive forward and backward driving easier on the driver.
The new CX tractor has more power and is a heavier, and slightly bigger tractor than the CS. The front loader option available for the CX tractor is significantly bigger than the CK2510's, making it easier to get the job done.
The CX tractors, like some the CS models, have a toolbox, cruise control, tilt steering, and a USB port for your devices. The CX models also have dual armrests for added comfort.
KIOTI's All-New Zero Turn Lawn Mowers
New this year, KIOTI released the all-new KIOTI Zero-Turn lawnmowers. The Zero-Turn mowers have an incredibly tight turning radius, making it easier than ever to get a great cut of lawn around trees, corners or anywhere else on your lawn.
The lineup has twelve new models across four series. The ZXR and ZXR SE series are for residential users, while the ZXC and ZXC SE models are for commercial applications.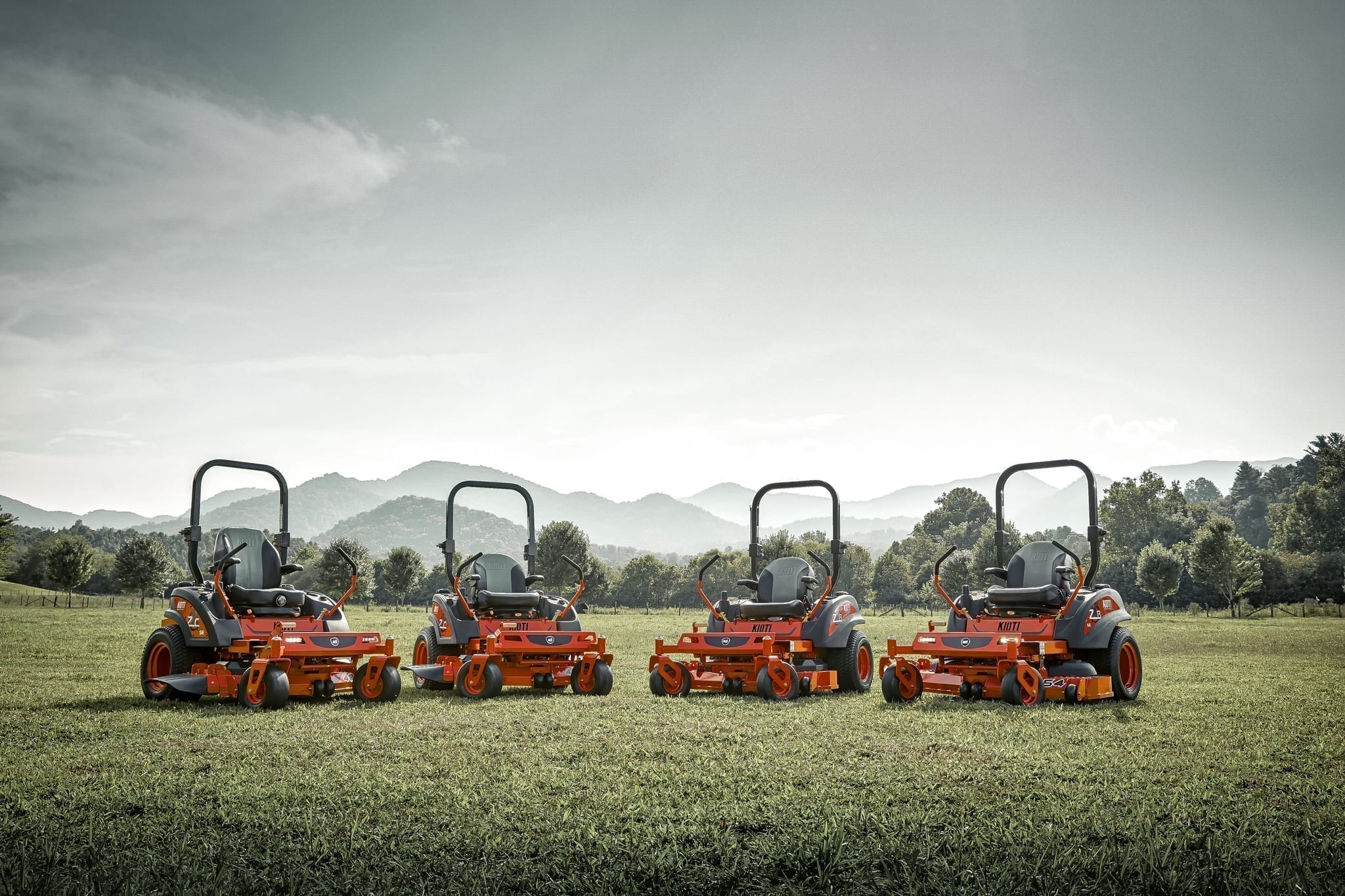 The constant feedback we hear on the KIOTI ZTRs is how robust and sturdy they're built. The KIOTI ZTR's price point is a bit above the average Cub Cadet Zero-Turn lawnmowers we carry, however, the robust engineering makes them a bit more durable. If you're going to be using your zero turn lawn mower quite frequently, across rough terrain, the KIOTI ZTRs might be the right machine for your lawn.
Each KIOTI Zero Turn tractor has a mower deck designed to suck up each blade of grass before it passes over it with its cutting blades. Ensuring each grass blade is standing up straight produces that pristinely evenly cut lawn that'll be the envy of your neighborhood.
They also have upgraded LED lighting, a 10-gauge reinforced fabricated deck, auto choke, and a power socket to charge your devices.
The commercial models also have a 3-inch travel suspension seat with adjustable weights. The adjustable weight suspension is handy if you have a commercial lawn mowing business with users who vary in size (or if you have the luxury of having a few different people wanting to mow your lawn!). Whether it's you, your employees, your kids, or the neighbour kid down the road wanting to take the ZTR for a spin around your lawn, the adjustable weight means you'll all have a comfortable, safe ride.
The commercial models also have dual fuel tanks for longer hours of mowing and convenient keyless start with a keypad code.

Find the New KIOTI Models at Our Tractor Dealership in Vernon BC
KIOTI has released a few new tractor models and upgraded some of the more popular models to make them even better. If you love tractors as much as us, we hope you enjoyed learning about some of the new features and models!
If you're contemplating trading in your current tractor for an updated model, or just wondering how to get behind a tractor for the first time, feel free to stop in here at Timberstar. We have a great lineup of tractors for sale in BC. We take trade-ins and have a plethora of financing and cashback deals on tractors; we'd be happy to help you find the right tractor for your property.
However, we're never interested in just selling you a tractor! We're here to provide the information you need to make the best decision for your property, your business, and your family. Then, we're here every step of the way to help you service, repair and troubleshoot your tractor with you after the sale. We look forward to seeing you soon!